JUMP TO TOPICS


Dr. Brendan Barrett Joins NOMS Ankle & Foot Care Centers
5 Practices for Diabetics to Keep Top-of-Mind During Winter Months
Salem Man Finds New Hope After Treating Life Impeding Ankle Wound
Dr. Stas Combines Podiatry with Dietetics, Encourages Team Approach to Health
______________________________
Brendan Barrett Joins NOMS Ankle & Foot Care Centers
NOMS Ankle & Foot Care Centers, the region's largest podiatric medical practice, recently announced the addition of Dr. Brendan Barrett to its staff of physicians and surgeons. Dr. Barrett is accepting new patients in the group's Boardman, Columbiana, Youngstown and East Liverpool offices. 
5 Practices for Diabetics to Keep Top-of-Mind During Winter Months
By: Dr. Jennifer Flo
As the colder months set in, it's important to keep your health top-of-mind. This is especially important for those living with diabetes. Here are five key practices for diabetics to keep in mind when the temperatures drop.
Salem Man Finds New Hope After Treating Life Impeding Ankle Wound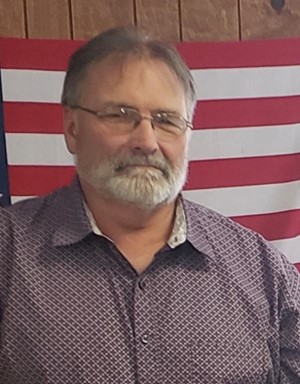 This time last year was bleak for Bill French who was dealing with ankle swelling that impacted his mobility. Throughout the year, the 65-year-old would see progress and digression but a visit to NOMS Ankle & Foot Care Centers' Boardman office would lead to progress he never thought possible.
Bill's decision to schedule an appointment at Ankle & Foot was sparked by a few of his friends who had seen a television advertisement for the company. The friends knew how limiting his wound had become and suggested he contact the practice.
The wound was a large venous ulcer on the inner part of his right ankle. This occurs when blood travels down through veins in the legs but does not travel back up to the heart efficiently.
"I've had the wound three times in the same place. The most recent one was the worst, which I'd been living with for nearly a year," said Bill.
"My ankle was at its worst in the summertime when the swelling made it bigger than a grapefruit," he added. "The ugliness of it was horrifying."
At his worst, Bill could not wear shoes, which forced him to wear slippers whenever he left his home. Physical inconveniences like this began affecting not only how well he got around, but also his mental health.
When he finally decided to seek treatment at Ankle & Foot in September, Dr. Lawrence DiDomenico and several other doctors on staff were there to help. 
"They wrapped my leg with a Unna boot, starting from my toes and going to the knee," Bill said. "Then they wrapped a bandage over top of that to make sure it was tight. 
"They were changing it twice a week due to the severity of the wound, but once it began progressively healing, it was cut down to once a week," he said.
Bill kept his leg wrapped for several months but noticed that it was healing in a week's time. It was a progression he could only describe as a miracle.
"Even my wife said it was a miracle," he remarked. "She thought that it was never going to heal and that I would lose my foot."
Now, the Salem resident and retiree feels he's been given a second chance. The treatment he received has lifted a burden and after the experience, Bill is pushing himself to do everything he couldn't just a year ago.
"I can enjoy everything now, and I can do everything," he said. "I can finally put shoes on again and go anyplace I want to go without being embarrassed about what's on my feet."
Dr. Stas Combines Podiatry with Dietetics, Encourages Team Approach to Health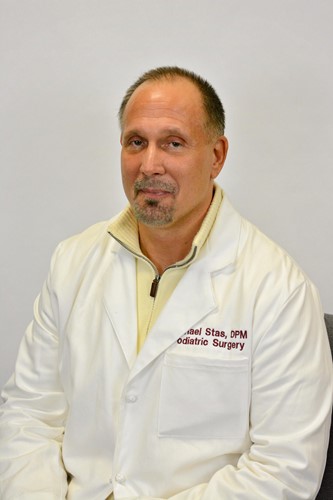 Dr. Michael Stas spends his time alleviating patients and educating them about their podiatric issues. But he almost took a different career trajectory that revolved around helping others.
"I was going to become a physiatrist, but through my shadowing experience at the University of Pittsburgh, I met a really positive mentor who was a podiatrist," Dr. Stas said. "You see, it's not a linear path; things happen, and you change course."
During his residency, Dr. Stas was taught by a current NOMS doctor, Dr. Lawrence DiDomenico. Working alongside Dr. DiDomenico now gives him the feeling he's working with family.
It has been three years since Dr. Stas began working at NOMS Ankle and Foot Care Centers. Prior to starting his residency, he was a personal trainer. It was an uncommon career transition but he flowed well into podiatry.
"I was a personal trainer with an emphasis on athletes and special populations such as diabetics," Dr. Stas explained. "As a result of my experience in this field, I take a broad approach in the treatment of diabetic patients with an emphasis on the importance of healthy lifestyle decisions, diet and exercise."
His joint backgrounds in personal training and podiatry have sparked a passion in him for diabetic wound care. But no matter what a patient is dealing with, Dr. Stas believes it is important to focus on the problem at hand while also focusing on underlying issues, which caused the problem.
"Many of our patients battle sedentary lifestyles and weight challenges, so I often stress the importance of diet and exercise," Dr. Stas added. "These are simple changes, but they can make a big difference."
He also believes in facing podiatric care as a doctor/patient team, adding the patient must be thoroughly educated and empowered to take an integral part in their care and recovery.
"When people feel like they're a part of a team and are held accountable, we see progress, so I like my patients to feel like they're on my team," said Dr. Stas.
"All of our doctors at NOMS Ankle & Foot Care Centers work together to solve complex problems and we lean on each other to make sure that our patients are getting the most up-to-date, comprehensive treatment available," he added. "Patient care and satisfaction are at the core of our foundation."
Dr. Stas is a member of the Pi Delta Honors Society in Podiatric Medicine. He is a New Brighton, Pennsylvania native but currently lives in Columbiana; a location that is closer to his father. Effective Feb. 1, he will be taking over Dr. Podolsky's practice at the Champion, Niles and Austintown offices of NOMS Ankle & Foot Care Centers.
When Dr. Stas is out of the office, you can find him involved in all things fitness. He is a self-described "pathologically bad golfer" but "refuses to give up on the frustrating sport."