Bicortical Subpectoral Biceps Tenodesis

Biceps tenodesis is a procedure during which the surgeon cuts the attachment of the biceps tendon to the labrum (cartilage around shoulder socket) and reattaches it to the humerus (upper arm bone). The benefit of reattaching the tendon below the bicipital groove is restored function and decreased pain. Removing the painful part of the biceps usually resolves symptoms and restores normal function. Depending on your situation, your surgeon may choose to do this procedure arthroscopically or through a small open incision.
Dr. Gobezie Studies:
Studying our Patients Progress After Surgery
Dr. Gobezie is passionate about closely following his patients' outcomes to surgery. Not all surgeons take the time to do this. Before surgery, we ask all our patients to complete a standardized questionnaire about their shoulder. We continue to follow each patient's improvement at certain time points after surgery. Pairing these standardized surveys with follow-up visits gives our practice a concrete way to measure our patients' outcomes.
What do our results mean?
The data we have studied from patients we have treated at the Gobezie Shoulder Institute shows above-average patient-reported outcomes in regards to pain and function. Published studies have indicated that the more times a surgeon performs a surgery, the better the patient outcomes. Additionally, high volume surgeons are able to provide value-based care, that is better outcomes over cost. Dr. Gobezie is not only a top performing surgeon in Ohio but also one of the most experienced and efficient in the country. Each year, he performs more than 350 shoulder replacements and more than 400 arthroscopic shoulder procedures.
Biceps Tenodesis Outcomes
The three graphs below represent the outcomes of Gobezie Shoulder Institute patients after arthroscopic bicep tendon repair. Their pain averages 6 out of 10 prior to surgery and decreases to an average of 2 after surgery. Prior to surgery, patients rate their shoulder on average at 40% of normal. After surgery, they rate their shoulder at about 76% of normal. Similarly, the ASES pain and function score improves from 44 to 83.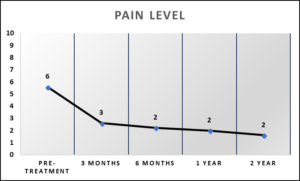 Pain scores indicate the patients level of pain from pre-surgery to two years after surgery.
All graphs show marked improvement in pain and function in the first 3 months after surgery.
These outcomes continue to improve through one and two-years post-surgery.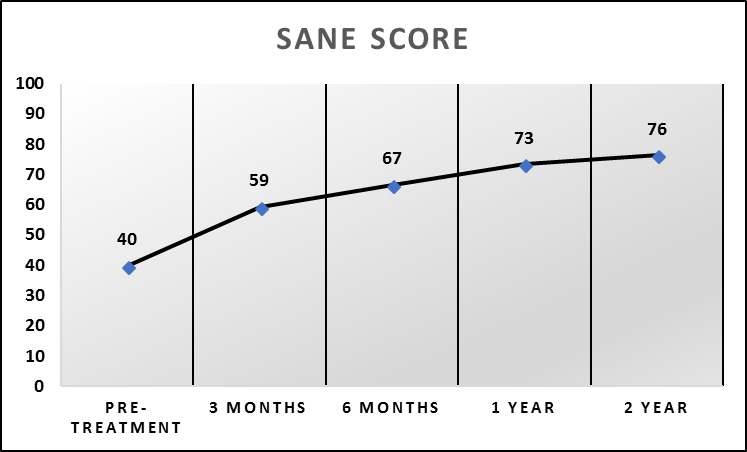 The SANE score represents how a patient rates his shoulder as a percentage of normal, 0% to 100% with 100% being normal.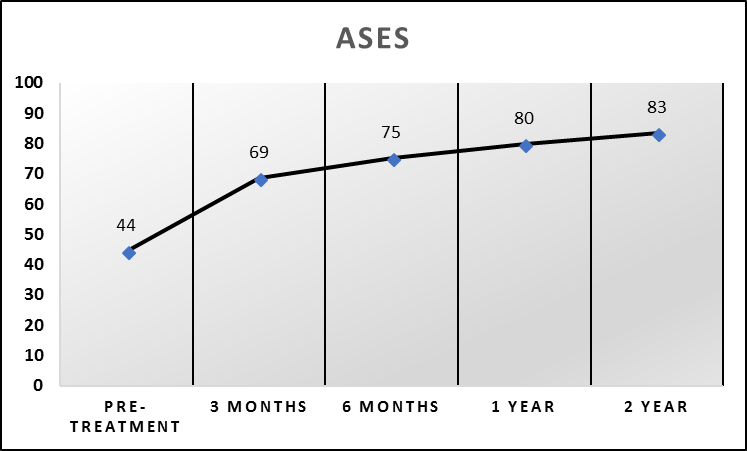 The ASES score is a standard shoulder assessment that measures pain and functional limitations of daily activities
on a 100-point scale.
A maximum ASES score of 100 indicates minimal shoulder pain and maximal shoulder function.